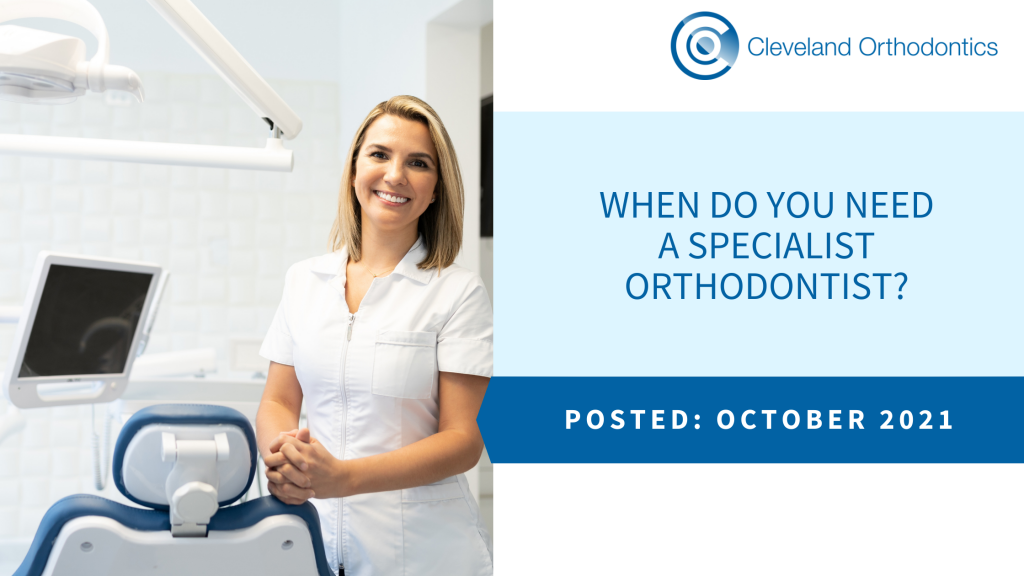 Unlike many dental treatment procedures like fillings or crowns, which are completed in one or two sittings, orthodontic treatment is time-consuming. One has to consider many aspects, such as the treatment type, financial constraints, location of the practice, and available services. Besides, The foremost thing you should consider before seeking orthodontic treatment is the dentist's or orthodontist's experience, qualification, and expertise.
If you are thinking about getting your teeth straightened with orthodontic treatment, you might be wondering whether you should visit a general dentist or an orthodontist for this purpose. This is article discusses the difference between a general dentist and an orthodontist and explains why it is always a good idea to get your teeth straightened by a specialist orthodontist.
What Is Orthodontics?
According to the British Orthodontic Society, orthodontics is a branch of dentistry that is concerned with the prevention, diagnosis, and management of issues relating to the growth of the jaws and facial bones and the alignment and optimal functioning of the teeth. In short, the orthodontic treatment ensures that you retain a set of fully functional and optimally aligned teeth that bring the best out of your smile and facial aesthetics.
When Should I Visit An Orthodontist?
A visit to an orthodontist becomes necessary if one observes that their teeth are not aligned properly. It is also recommended that you should take children to an orthodontist at an early age, usually from the age of 10, your general dentist will know the correct age to refer children.
Orthodontists are then able to assess your child and carry out preventive orthodontic treatment is to ensure that your child does not have crooked teeth or bite problems as they get older. A specialist orthodontist is able to work with the jaw growth and development of your child to ensure their teeth are straight in adult hood. 
What Is The Difference Between Endodontics And Orthodontics?
According to the American Association of Endodontists, an endodontist is a dentist who has undergone specialised training to prevent, diagnose, and treat problems involving the structures present inside and surrounding the teeth. So, the field of specialisation of endodontists is entirely different from orthodontists, who are concerned with teeth and jaw alignment.
What Is The Difference Between An Orthodontist And A Dentist?
A dentist, also called a general dentist, is a professional who has attended a dental school and is licensed to practice dentistry. General dentists are trained to treat all dental problems; however, they do not specialise in particular fields but if you have a crooked tooth that needs a filling or crown, it can be done by a general dentist. If you require specialised treatment like teeth straightening, you may prefer to go to a specialist, however, general dentists are allowed to treat cases within their competences.
Orthodontists are dentists who have undergone additional three or four years of clinical training to specialise in managing orthodontic problems in children and adults. Unlike general dentists, orthodontists only focus on their expertise and do not always provide general dentistry services. 
How Do Oral Surgeons And Orthodontists Differ?
An oral surgeon is a specialist dentist who is concerned with the prevention, diagnosis, and management of oral diseases and dental problems that require surgical treatment. Some of the commonly performed procedures by oral surgeons include simple and complicated tooth extractions, wisdom tooth removal,
Is An Orthodontic Treatment Harmful To The Teeth?
Orthodontic treatment does not have any harmful effects if performed by an experienced and qualified orthodontist or dentist. The most important aspect to ensure during orthodontic treatment is that gentle and controlled forces are applied to the teeth. Experienced orthodontists carefully control the orthodontic forces, thereby enabling the teeth to realign without any untoward effect. On the other, if too much force is applied on the teeth, it may damage the roots and the surrounding jawbone, ultimately negatively affecting the treatment outcome.
How Does An Orthodontist Fix Dental Issues In Children?
Orthodontists are trained to diagnose developing orthodontic problems in children during their early years. The American Association of Orthodontists recommends earlier examinations to allow orthodontists to advise you on whether treatment is recommended and to ensure that any underlying issues can be diagnosed timely. A general dentist or orthodontist will know the correct age to refer children. This is usually after 10 years of age. In fact, many orthodontic problems that are diagnosed early often do not require braces or require them for a shorter duration. Besides clinical examination, orthodontists use x-ray images and tooth models of the children's teeth to detect underlying issues.
Should I Get Braces From My 'General Dentist?
Some general dentists have experience in treating simpler cases but some may not be experienced in more complicated cases of dental work. If you are thinking of getting braces, we recommend should always consult an orthodontist or general dentist, but ensure that they have sufficient experience and clinical expertise, they will then be able to provide you with a wider range of treatment options to fit your budget, lifestyle and requirements.
Can My Orthodontist Fix My Crossbite With Braces?
While general dentists may fix minor orthodontic issues with braces like overcrowded teeth or spacing, they may not be experienced enough to treat complex bite issues like cross-bites. Therefore, you should consider going to an orthodontist if you seek optimal treatment for crossbites.
How Do I Choose An Orthodontist For My Braces?
Today, finding a specialist dentist in your area has become easy and simple. You can either ask your colleagues to recommend an orthodontic practice, or you can search the internet for orthodontic practices with good ratings nearby. Better yet, you can head over to the General Dental Council website to search for board-certified orthodontic treatment specialists in your vicinity. If you are looking for a good and renowned orthodontic practice in Middlesbrough, Cleveland Orthodontics should be your choice. No matter how complex your issue is, our qualified and experienced specialists will ensure the best functional and aesthetic outcome of your orthodontic treatment. So, book a free consultation appointment with us and let us take care of the rest.
« Adult Braces – The Complete Story | White Ceramic Braces – Everything you need the know »