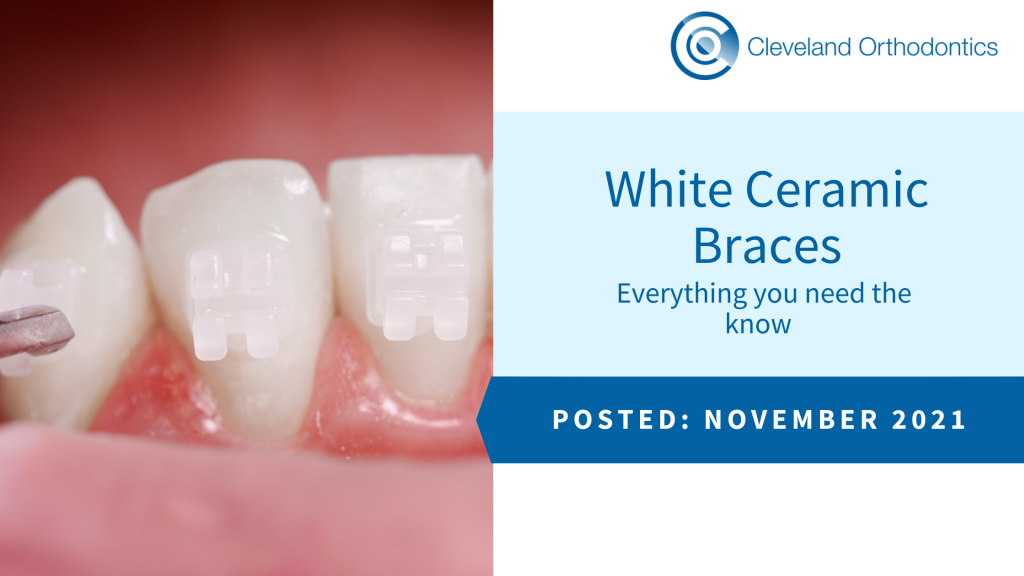 If you have been putting off orthodontic treatment simply because you do not want to wear the unaesthetic and inconvenient metal braces, no need to postpone your treatment anymore. Thanks to the tooth-coloured ceramic braces, you can get your teeth straightened inconspicuously and conveniently. If you're thinking about getting ceramic braces and would like to know more about this cosmetic orthodontic treatment option, this article is for you. So, read on to find out everything you need to know about ceramic braces.
How Are Ceramic Braces Better Than Metal Braces?
If we talk about aesthetics, then ceramic braces are certainly better than metal braces. However, if we consider the range of treatments that can be performed, conventional braces offer better control and a more comprehensive range of orthodontic movements and treatment. Therefore, if aesthetics are your primary concern, ceramic braces or Invisalign aligners should be your choice. On the other hand, if you want faster results, you should consider conventional braces.
Will Ceramic Braces Give Me The Same Results As Metal Braces?
Although the ceramic and metal braces have the same design and mode of action, they differ in various ways. Apart from the noticeable cosmetic differences, ceramic braces sometimes cannot perform extremely complex tooth movements. Hence, their range of treatment is shorter than the metal braces.
Besides, according to the British Orthodontic Society, the orthodontic wires in ceramic braces slide through less freely. Hence, the duration of treatment with braces is typically longer than the traditional fixed braces. 
Can Ceramic Braces Damage Your Teeth?
As with any fixed orthodontic appliance is important to keep the teeth clean to avoid decay, this is primarily due to food particles getting stuck. That is why it is important to take care of your oral hygiene by brushing and flossing daily. Tooth wear is a concern when any braces, including ceramic braces are placed on the lower teeth with a deep bite. Such a situation can result in significant wear of the opposing teeth. 
How Much Does Ceramic Braces Cost?
In the UK, there are various brands of ceramic braces, each having different costs. Besides, the cost of treatment with ceramic braces depends on the location of the orthodontic practice and the skill and qualification of the orthodontist. However, you can expect the cost of treatment with braces to be anywhere between £1250- £3780. It is now common that monthly payment plans will be available, often available from £165 per month.
What Do Clear Braces Look Like?
According to the British Orthodontic Society, ceramic braces can be made from tooth-coloured or translucent materials. Regardless of the material type, ceramic braces blend in perfectly with the natural teeth and are virtually invisible. Therefore, like Invisalign aligners, no one will notice that you're undergoing treatment with braces.
Are Damon Braces And Ceramic Braces The Same Thing?
Both Damon and ceramic braces are fixed to the tooth to realign them. Apart from that, there are significant differences between these two braces types. First, Ceramic braces use ligatures or ties for connecting the orthodontic wires with the brackets. On the other hand, the Damon braces are self-ligating – meaning that they do not need elastics for holding the orthodontic wires.
Besides, ceramic braces are made from tooth-coloured or transparent material. Damon braces come in two varieties: metal and clear. The clear braces, called Damon Clear, are made from transparent ceramic or tooth-coloured material, while the metal variant of Damon braces is made from stainless steel or polycarbonate. 
What Is The Difference Between Clear Braces And Clear Aligners?
"Clear braces" is a broad term that encompasses all orthodontic treatment options – both fixed and removable – that are made from transparent or tooth-coloured materials:
Ceramic braces – Generally known as clear braces.
Damon braces
Invisalign aligners
If we compare the clear ceramic braces with Invisalign, there are several differences. First, ceramic braces remain fixed to the teeth while Invisalign aligners are removable. Secondly, ceramic braces are made from tooth-coloured or transparent materials, while the Invisalign aligners are made from a transparent flexible polymer. Besides, optimal oral hygiene maintenance is challenging with ceramic braces, and there are several dietary limitations. In contrast, Invisalign aligners are removable. Hence, they allow for optimal oral hygiene maintenance and enable you to enjoy all your favourite foods.
Which Type Of Dental Braces Are Most Suitable?
Every orthodontic patient has unique treatment needs. Hence, no single orthodontic treatment can be regarded as a suitable option for all patients. Therefore, before starting your treatment, your orthodontist will first perform a detailed examination to identify the cause and severity of the underlying problem. Based on their findings, they will prepare a customized treatment plan and suggest and treatment option that offers the most favourable aesthetic and functional outcome. When choosing an orthodontic practice near you, you must select a dental office with positive patient reviews and prides itself on having a qualified and experienced dental team. So, if you are looking for the best orthodontic practice in Middlesbrough, Cleveland Orthodontics is what you're looking for. We offer high-quality general dental and orthodontic services in a comfortable and relaxing environment. So, book a free video consultation with us today and let us give you the smile of your dreams.
« When Do You Need A Specialist Orthodontist? | Is Orthodontics For You? – Finding The Best Treatment For Your Teeth »